22 Dec 2022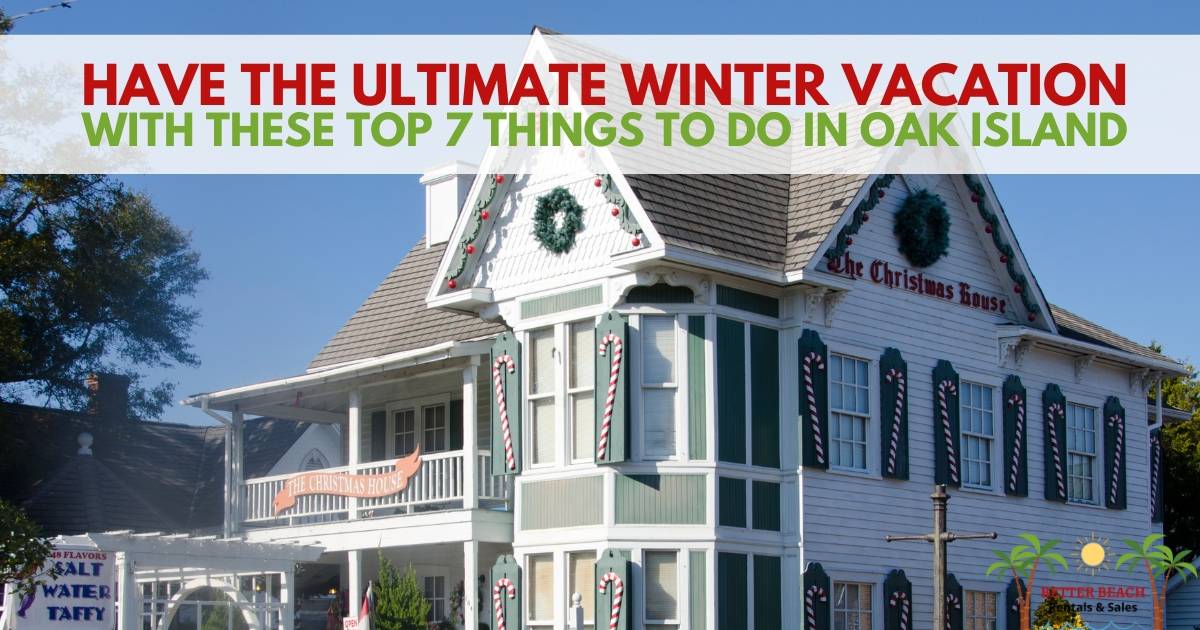 Are you planning a winter vacation to Oak Island, NC? If so, you're in for a treat! Oak Island is a beautiful coastal town that offers a wide range of winter activities for vacationers of all ages. Here are the top seven things to do in Oak Island for the ultimate winter vacation.
If you're planning a trip to Oak Island, be sure to check out some of the best places to stay on the island. Whether you're looking for a cozy condo vacation rental or a single-family home vacation rental, we have a wide range of accommodation options to suit your needs. Don't miss out on the opportunity to experience the beauty of Oak Island - book your stay today!
1. Go Horseback Riding
If you love the outdoors, horseback riding is a must-do activity on Oak Island. If you'd like to take lessons, A Wild Horse Ranch offers lessons for $50 for 30 minutes where you can learn awareness, communication with horses, and safety. To book a lesson, visit their website.
Instead of lessons, you can also try trail rides and more at Horse Play Farms. They offer horse rides and activities like games. Visit their website to learn more and book a ride with them.
2. Try Skydiving
For thrill-seekers, skydiving is a top choice for an unforgettable winter vacation in Oak Island. A great skydiving company in the area is Skydive Coastal Carolinas. They offer tandem jumps, so you can experience the rush of freefalling over the gorgeous beaches and waterways of Oak Island. You can also get certified on several different levels if you're the ultimate thrill-seeker!
If you're excited and want to learn more, check out Everything You Need to Know About Skydiving in Oak Island.
3. Visit the Oak Island Lighthouse
No winter vacation to Oak Island is complete without visiting the Oak Island Lighthouse. Built in 1958, this historic beacon is 153 feet tall and offers stunning views of the coast. It is unique in that it doesn't have a spiral staircase but uses ship ladders instead.
You can take tours year-round and learn about its history and importance to Oak Island. Check their website for current tour information for each season and to know when tours to the top are available as well as other restrictions and requirements. Free parking is available.
4. Take a Day Trip to Southport
If you want to get out for the day, spend a day in beautiful Southport, a charming town near Oak Island. It is a must-visit destination with so much to do. Here you'll find charming shops, restaurants, and galleries, as well as a rich history dating back to the early 1800s.

5. Take Your Kids or Inner Child to Planet Fun
Planet Fun in Shallotte, NC is a family-friendly entertainment center that offers a variety of activities for visitors of all ages. The facility includes a laser tag arena, multi-level indoor laser tag, an arcade with a fun selection of games, and their Starz Grille with a variety of food and drink options. In addition to these indoor attractions, the facility also hosts a drive-in theater and other special events. Whether you're looking for a fun outing with your family, a place to celebrate a birthday, or just a way to pass the time on a rainy day, Planet Fun has something for everyone.
6. Visit Fort Caswell
If you're interested in military history, Fort Caswell is a must. This historic place was used during the Civil War and now serves as a conference center and more for the Baptist church and other denominations. But you can take a tour to learn more about its past and see the various buildings and structures that make up the complex.
7. Visit a Maritime Museum
The North Carolina Maritime Museum in Southport is a cultural institution dedicated to preserving and interpreting the state's rich maritime history and heritage. Located in the historic fishing village of Southport, NC, the museum features exhibits on a wide range of topics, including the state's coastal environments, maritime trades, shipwrecks, and lighthouses.
The museum's collection includes artifacts, documents, photographs, and other materials related to North Carolina's maritime history, as well as a number of interactive exhibits and displays. In addition to its permanent exhibits, the museum also hosts a variety of special events and programs, such as lectures, workshops, and guided tours.
Whether you're interested in the history of the state's coast, its maritime trades, or its shipwrecks, the North Carolina Maritime Museum in Southport is a must-visit destination for anyone interested in the state's rich maritime heritage.
With so many exciting things to do, Oak Island is the perfect destination for a winter vacation. Whether you're interested in outdoor adventures, history, or just soaking up the laid-back coastal vibe, you'll find it all here. So, start planning your trip today and have the ultimate winter vacation in Oak Island!
Our Featured Properties
Hand-picked, just for you!
3 Baths
4 Bedrooms
10 Guests
10 Baths
12 Bedrooms
32 Guests
6 Baths
7 Bedrooms
24 Guests