20 Apr 2022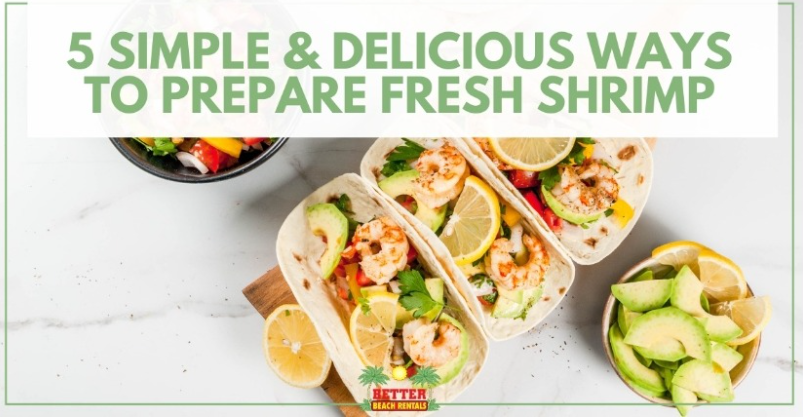 There are a lot of wonderful things that come with an Oak Island beach vacation. One of the best is access to the best fresh seafood on the North Carolina coast. Of course, you can't talk about seafood in North Carolina without talking about fresh shrimp. Oak Island is famous for fresh shrimp. Whether you like it grilled, fried, or boiled, shrimp is one of the most delicious and versatile choices! Here are a few recipes you'll love. 
Spicy Shrimp Tacos
There are a few things I think we can all agree on, and one of those is just how much we love tacos. Fish tacos, chicken tacos, and beef tacos are the most common, but there is something magical about a shrimp taco. Since shrimp absorbs flavors really easily, tacos allow for all sorts of twists on flavor and taste. However, if you want a simple recipe that is sure to be a crowd pleaser at your next family gathering, check out this recipe for cilantro, lime and garlic shrimp tacos from the folks at Pinch of Yum.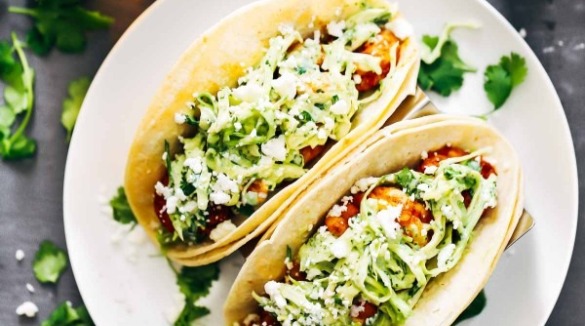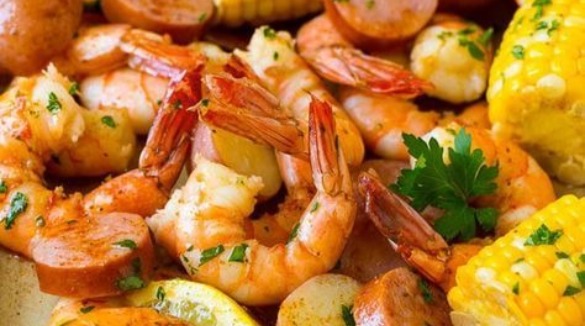 Shrimp Boil
Often called a Low Country Boil, this simple dish is not only easy to make but delicious and open to a lot of different interpretations. This is the easiest recipe on today's list! Basically, if you can boil water you can make this delicious shrimp boil. Remember – the key to this dish is using the freshest shrimp you can find. 
Click here to make a Shrimp Boil. 
Creamy Garlic Parmesan Shrimp
Is there anything better than garlic, shrimp and cheese? Sounds like the perfect combination of ingredients. This recipe is created by the good folks at Cafe Delight. There are several ways to make this dish (including over rice or pasta). There are even some ways to make this dish as a low carb option. One thing is for sure – you and your family are going to love it. Check out this amazing recipe at Cafe Delight.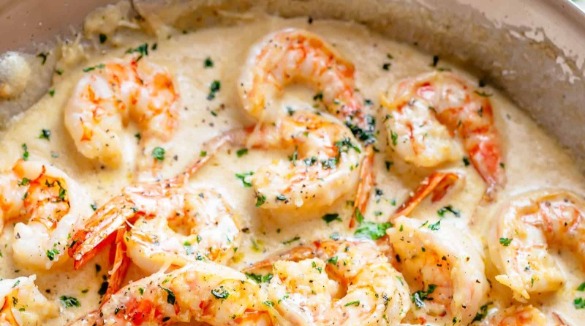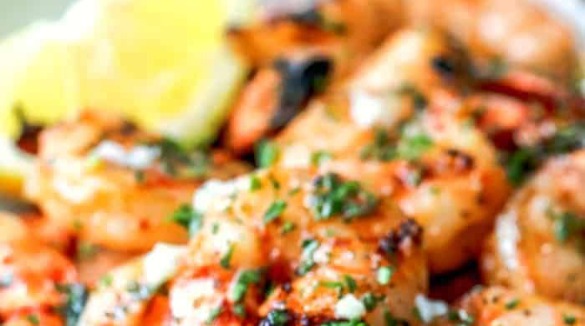 Grilled Spicy Shrimp
Grills, the beach and shrimp all go together like peanut butter and jelly, only more delicious. Many of our Oak Island vacation homes have grills, and whether you use a charcoal or gas grill, this recipe is sure to be a crowd pleaser. We love preparing grilled shrimp as an appetizer. Shrimp absorbs flavors well so go ahead and experiment with different marinades. 
Click here to find out more about this recipe. 
There is something special about this simple dish. Anyone who has lived in or visited coastal North Carolina has likely seen this dish on the local menus. However, because our vacation homes all have well-appointed kitchens, you too can be making delicious and creamy shrimp and grits in no time. Here is a quick ingredient list:
6 slices Bacon, smoked
1 lb large shrimp
3 cloves Garlic, 3 Green onions, 1 Red bell pepper
1 cup Quick grits
1/4 cup chicken or vegetable broth, low sodium
2 tsp Cajun seasoning, 1/8 tsp ground Cayenne pepper, 1/4 tsp Salt
1 tbsp Vegetable oil
3 tbsp Butter
1 1/2 cups Cheddar, sharp, 
2 tbsp Heavy whipping cream
4 cups Water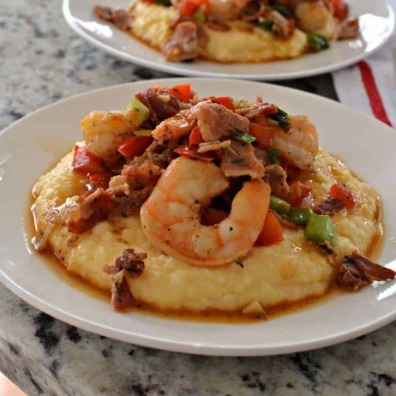 All that left to do is to book your Oak Island beach vacation, hit the local seafood market, fire up the grill and get ready to enjoy a beautiful week on Oak Island. Whether you are a long time visitor or first time vacationer, we are here to help you find the perfect home. We have a large selection of homes to choose from in all the best locations on Oak Island. Call us today at 910-278-1147 to begin planning your 2021 vacation. 
YOU ARE ONLY A FEW CLICKS AWAY FROM AN OAK ISLAND VACATION
Like and follow us on your favorite social media