22 Apr 2022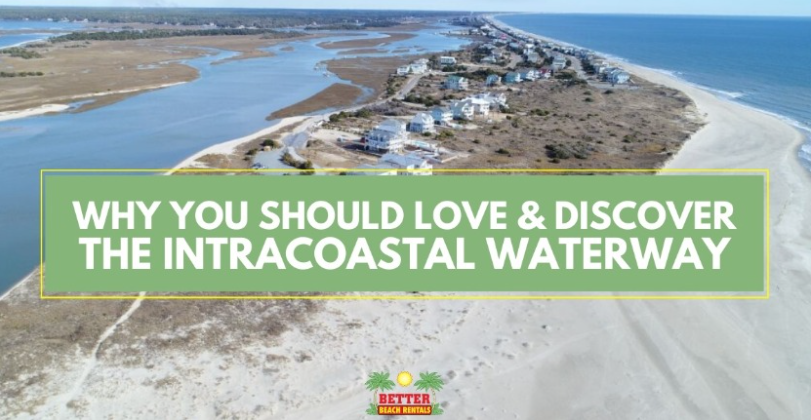 Oak Island is a unique and beautiful place. Unlike many of the crowded beaches further north our small town charm and pristine beaches makes Oak Island a destination like no other on the North Carolina coast. One of the features that makes Oak Island and Southport one of those special places is the Intracoastal Waterway. Many people see this waterway, but few understand it or realize just how special this waterway is. This week we share a little bit about the Intracoastal Waterway and why you will love discovering it during your next Oak Island beach vacation. 
What is the Intracoastal Waterway
The Intracoastal Waters (ICW) is a 3,000-mile (4,800 km) inland waterway along the Atlantic and Gulf of Mexico coasts of the United States, running from Boston, Massachusetts, southward along the Atlantic Seaboard and around the southern tip of Florida, then following the Gulf Coast to Brownsville, Texas. Some sections of the waterway consist of natural inlets, saltwater rivers, bays, and sounds, while others are artificial canals. 
Five fun facts about the Intracoastal Waterway
1. The sections of the ICW that goes through Oak Island is called The Atlantic Intracoastal Waterway (AIWW)  and extends from Norfolk VA through Key West, FL for approximately 1,100 miles. 
2. The Waterway was authorized in the 1939 Rivers and Harbors Act.
3. The US Army Corps of Engineers is responsible for its maintenance and regularly dredges the waterway. 
4. Many vessels use the waterway including military vessels, NOAA vessels, barges, commercial fisherman and pleasure boats.
5. The Intracoastal Waterway connects to several navigable rivers where shipping traffic can travel to inland ports, including the Mississippi, Alabama, Savannah, James, Susquehanna, Delaware, Hudson, and Connecticut rivers.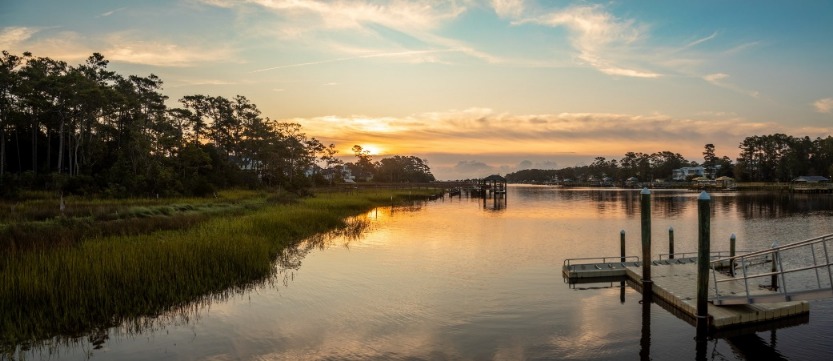 How can I make use of the ICW?
Many people use the ICW and don't even realize they are on it. Other folks often wonder if there are restrictions on the use of the ICW or what it is good for. There are all sorts of great ways to make use of the ICW during your net Oak Island Beach vacation. Here are a just a few. 
1. Kayaking- The ICW is a great place to Kayak. The waterway allows you to explore large areas of water in a safe and protected manor. Just like how the waterway allows larger boats to be protected from the open water the ICW does the same for kayakers. It also gives you access to some incredibly beautiful estuaries and marshes. 
2. Fishing- The ICW is a great place to go fishing. There is no need to head miles out into the ocean to catch the "big one". You can catch an array of fish right here in the ICW. This is a great option for those with kids who don't want to be on the open water but still enjoy great fishing. 
4. Boating- The ICW is like a highway and it connects you to some really amazing ports. From Oak Island you can head to Southport, Wilmington, Holden Beach, and Ocean Isle Beach. We aren't worried, once there you'll realize how nice it is to call your Oak Island vacation rental home. 
5. For visiting Oak Island- Are you looking to move a large boat up and down the coast this fall or spring? Why not make Oak Island or Southport you next stop. We have great places to stay and incredible local restaurants. Hey, you will need fuel either way, so stop by and say hi. 
We have homes on the ICW
Want to stay on the ICW? No problem. Did you know that we have several homes that are on or near the ICW? These homes offer either a great view or direct access to the ICW. 
What could be better than waking up with a cup of coffee stepping out onto the deck and have the beautiful ICW as your view? We can't think of anything better either. Are you bringing a boat? Give us a call, and we will be happy to help you with any questions you might have.
There is still time to book you summer 2020 Oak Island beach vacation. We have a lot of great vacation homes and condos to choose from. We've all been stuck at home way to long. Now is the time to fire up the SUV, load up the kids, pack the cooler and head to Oak Island for a relaxing summer vacation on Oak Island. Give us a call today at 910-278-1147 or click the button below.