20 Apr 2022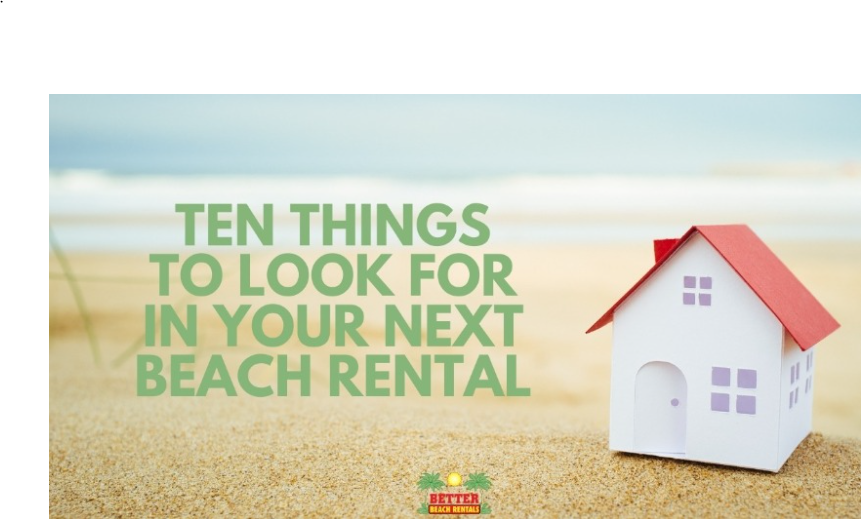 For most of us, owning or renting your own beach house is a dream come true. However, before you buy or rent a vacation home, there are a few beach house essentials that will help make it feel like home. Check out this list of ten things you should look for in your Oak Island vacation home.
Travel insurance
Ok, so this isn't actually in the home, but travel insurance is a must for any renter (and new home owners should make sure their property management company offers travel insurance). Nobody wants to think about having their vacation cancelled or otherwise interrupted, but it can happen. The only way to fully protect your vacation investment is by purchasing a travel insurance policy. Make sure that, when looking for and booking your next Oak Island beach vacation, you make this small investment and protect your vacation. If you need help answering travel insurance related questions, please call our office. We are happy to answer all of your questions. 
Outdoor area
Ah, we love a beautiful deck or porch. Don't you? How fun to laze away the days right here. Every beach home needs an inviting outdoor space!
Outdoor spaces are a great way to expand your living space and the utility of the home. Whether you want to throw a party, watch the waves roll in, or just enjoy a morning cup of coffee, a great outdoor space is a must.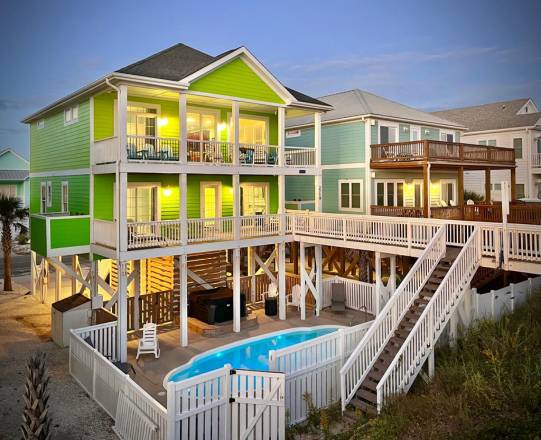 Comfy Furniture
Furniture matters! Make sure your beach home has comfortable furniture both indoors and outdoors. You will notice the difference and so will your guests. Besides, the beach is all about relaxation!
Outdoor Showers
If your beach home is not already equipped with an external shower, consider getting one installed. Send sandy bodies there straight away to avoid having wet, messy trails throughout your entire house. They are also extremely useful for washing items like beach chairs and toys. Keep a utility fan in the entryway to the home nearest the shower (like the durable Max Performance Pivoting Utility Blower Fan) to ensure air circulates, and moisture from the shower stays outside where it belongs.
Beach House Books & Games
Make it easy for your guests to relax. Have a cozy place to keep a few good beach reads and fun games to play during their stay. Used book stores are a great place to pick up puzzles, games, and used books to create your collection.
Consider a pool
This one comes down to your personal preference, budget and priorities. But after having booked beach rentals both with and without a swimming pool, I'm personally a big fan! Especially when traveling with little kids ... a pool is a great option.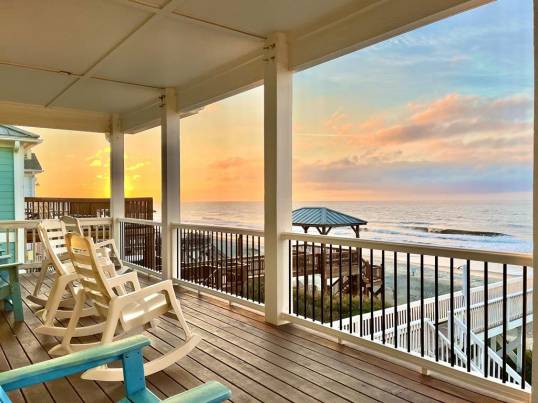 Amenities
Unlike hotels, all of our vacation homes feature a wide selection of amenities. This is great because you can choose a home that has all the things you need without paying for extra things you don't want. Use our secure website to search properties for the amenities you desire.
Accessibility
Every family has specific needs regarding accessibility. Whether you are buying a home or renting one, taking a few moments to determine your needs is an important part of choosing your home. Do you need an elevator? Do you prefer a ground floor home, or a handicap ramp? There are always options available on Oak Island.
Consider locations
There are a lot of different places to choose from, but one key thing to consider is where on Oak Island you want to be. We have homes on the oceanfront, second row, and closer to town. There are so many choices and choosing one that fits your beach lifestyle is an important consideration. 
Know your budget
Set a budget for the kind of rental that you want. The budget will guide you in the selection process since it will further narrow down your options as you search for properties for rent or purchase. There is no point looking at a six bedroom oceanfront property if you only need a two bedroom condo. Bigger is not always better, and it is easy to blow your budget by booking a home that is both too expensive and not suitable for the size of your party. Luckily, we have one of the largest selections of vacation homes on Ocean Isle Beach, so we can find you the perfect vacation home within your budget. 
       Now that you know what to look for in your next vacation home, all that's left to do is to book your vacation home. If you need help finding the perfect location we have a friendly and knowledgeable staff standing by to help. Give us a call today at 910-278-1147 or click the button below to see all of our current properties.