17 Oct 2023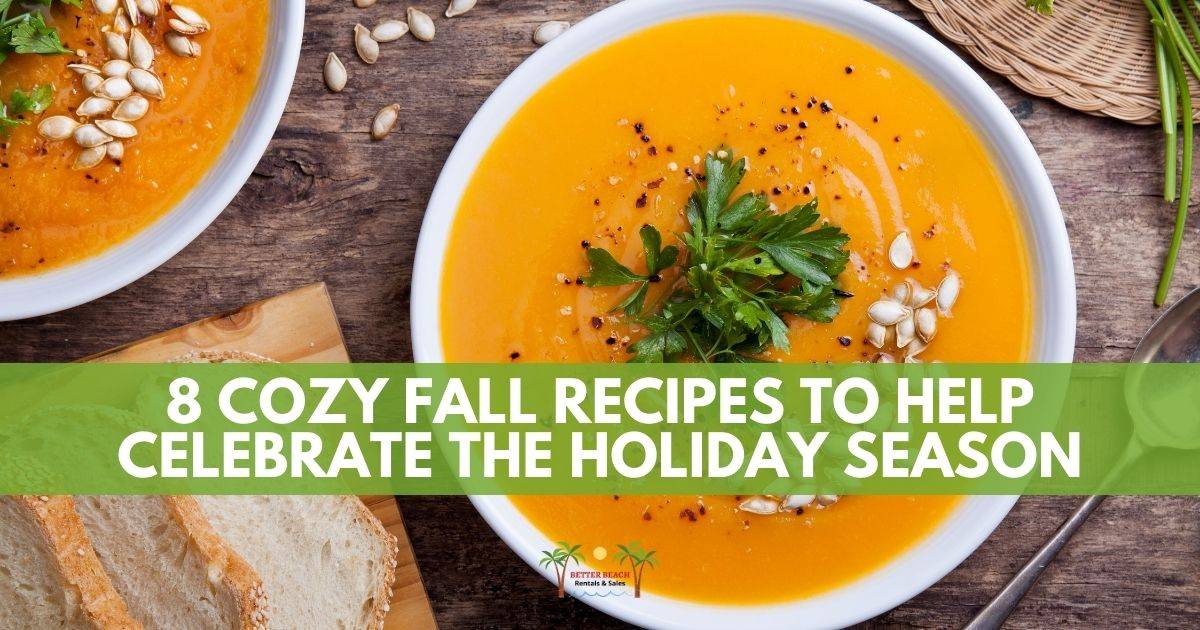 The fall season offers a range of appealing flavors, making it an excellent time to try new recipes. In Oak Island, NC, the cool sea breeze complements the warm aromas of cinnamon, nutmeg, and roasted vegetables, creating a welcoming atmosphere for culinary exploration.
Our list of simple yet delightful fall recipes for main dishes, sides, snacks, desserts, and drinks brings a unique twist to the usual seasonal fare. As the sun casts a gentle glow over the calm waves, imagine enjoying these satisfying dishes on the deck of your Oak Island vacation rental, enhancing the overall experience of your stay.
Hearty Pumpkin Soup
Indulge in the creamy goodness of Hearty Pumpkin Soup, a fall favorite with its velvety texture and sweet, savory flavor. The blend of pumpkin and cream offers a comforting, warm embrace on a cool autumn day.
List of Main Ingredients
• Sugar pie pumpkin or squash
• Onion
• Cloves of garlic
• Vegetable broth
• Heavy cream
This simple yet delicious soup is perfect for a cozy evening. Explore a detailed recipe for added flair and serving suggestions.
Apple Cider Glazed Chicken
Experience the sweet and tangy allure of Apple Cider Glazed Chicken, a delightful twist to your usual chicken dinner. Marinating the chicken in cider overnight results in tender, flavorful meat that's sure to please.
List of Main Ingredients
• Chicken thighs
• Apple cider
• Dijon mustard
• Rosemary (or thyme)
This dish is perfect for a hearty fall meal. It's super easy to make and cooks in just 35 minutes. Check out the full recipe for more tips on achieving that perfect glaze.
Roasted Vegetable Medley
Celebrate the earthy flavors of fall with a colorful, nutritious Roasted Vegetable Medley. Tossed in olive oil and roasted to perfection for about 45 minutes, this medley is a vibrant addition to any autumn table and pairs well with a main dish.
List of Main Ingredients
• Carrots
• Parsnips
• Beets
• Brussels sprouts
• Seasonings
• Garlic
• Olive oil
Brighten up your fall meals with this veggie delight. Here's a detailed recipe to guide you through.
Cranberry Walnut Salad
Refresh your palate with a Cranberry Walnut Salad. The delightful crunch of walnuts, paired with sweet cranberries and mixed greens, makes for a light, flavorful salad.
List of Main Ingredients
• Mixed greens
• Dried cranberries
• Walnut halves
• Crumbled cheese
Toss up this salad for a quick, nutritious bite. Find the full recipe here.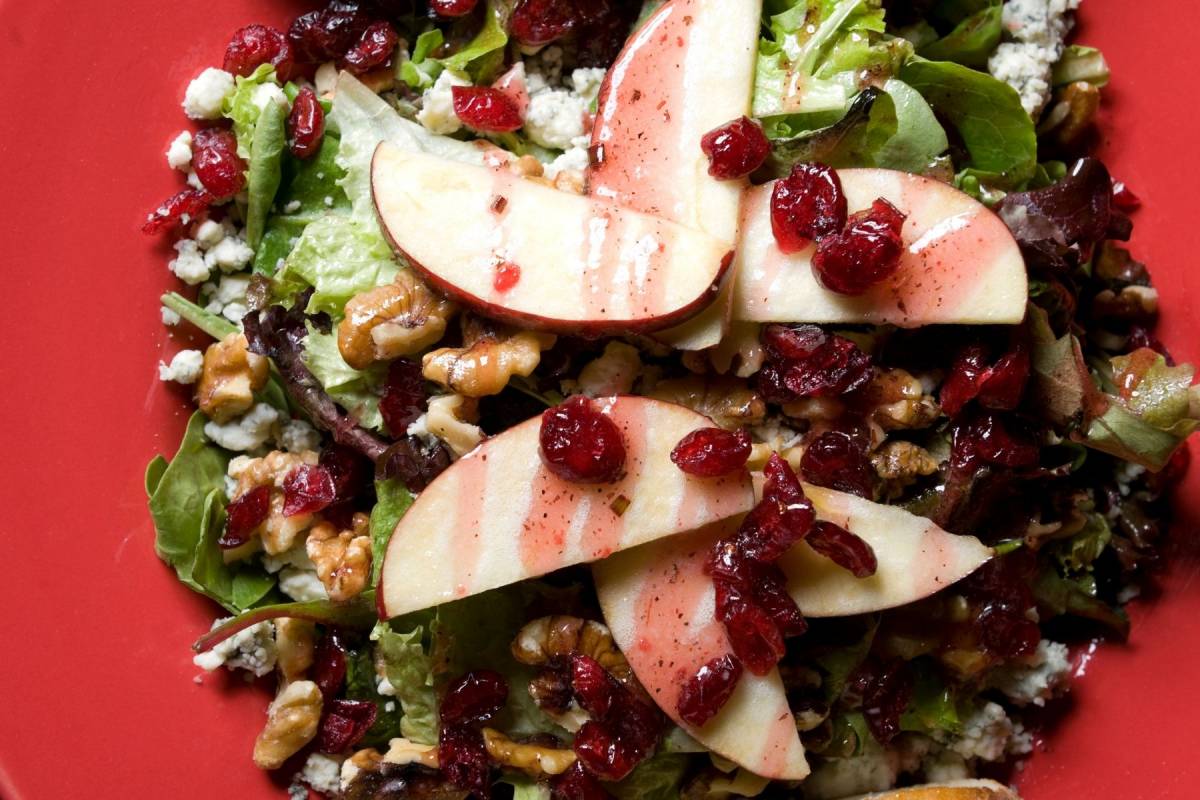 Pumpkin Spice Muffins
Welcome the cozy vibes of autumn with delicious Pumpkin Spice Muffins. The delightful blend of pumpkin and spices makes these muffins a beloved fall treat and makes your beach house smell like heaven for the holidays!
List of Main Ingredients
• All-purpose flour
• Pumpkin puree
• Eggs
• Brown and white sugar
Bake these muffins for a sweet start to your fall mornings. Follow this recipe for step-by-step instructions and to see the complete list of ingredients.
Sweet Potato Fries
Enjoy a healthier snack option with crispy, oven-baked Sweet Potato Fries. Their natural sweetness, enhanced by a light sprinkle of salt, makes them a satisfying choice.
List of Main Ingredients 
• Sweet potatoes
• Cornstarch
• Seasonings
• Olive oil
• Salt
These fries are a great wholesome snack to make as a family and spend time bonding on your beach vacation. Get the full recipe for all the details and some great variations.
Apple Crisp
Indulge in the classic sweetness of Apple Crisp. This dessert brings together tart apples and a crunchy oat topping, embodying the essence of fall in every bite.
List of Main Ingredient 
• Tart apples
• Sugar
• Ground cinnamon
• All-purpose flour
• Oats
Have a delicious dessert for your family in about an hour, and it makes sweet delight for a fun game night or to enjoy while watching movies! Here's the complete recipe.
Spiced Apple Cider
Cozy up with a mug of Spiced Apple Cider, an aromatic staple beverage in the fall. The simmering spices fill the air with a comforting aroma, making it the perfect drink to cozy up with.
List of Main Ingredients
• Apple cider
• Cinnamon sticks
• Whole cloves
Sip on this warm, spiced cider on a crisp autumn day and enjoy the holidays!
These delightful recipes are perfect for the fall season and upcoming holidays. And if you're planning a fall vacation to the beach, these are a perfect way to enjoy comfort foods over the holiday seasons with all your loved ones.  
Our cozy beach vacation rentals provide the perfect setting to indulge in autumn's culinary delights. With a well-equipped kitchen, you can easily whip up these dishes and enjoy them with a view of the serene, rippling waters. As the day ends, the soothing sounds of the waves complement the sweet satisfaction of a meal well-enjoyed. Browse our available vacation rentals and make these recipes a part of your cherished memories.
Our Featured Properties
Hand-picked, just for you!
3 Baths
4 Bedrooms
10 Guests
6 Baths
7 Bedrooms
24 Guests
10 Baths
12 Bedrooms
32 Guests