3 Aug 2023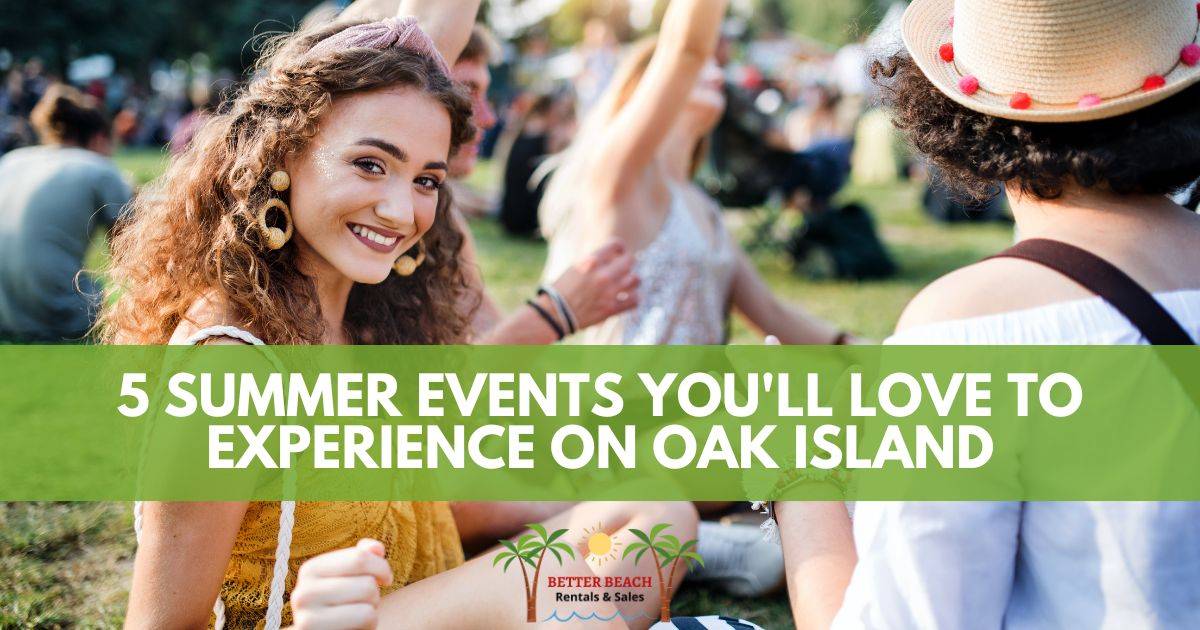 Summer is the perfect time to explore the picturesque beauty and vibrant events that Oak Island offers. There are plenty of fun events to keep you entertained no matter what you love to do. From farmers' markets to music festivals, Oak Island has something for everyone. Let's dive into the top five summer events and things to do on Oak Island. And if you're still looking for a place to stay for your summer vacation, check out our affordable vacation rentals!
Oak Island Farmers Market
The Oak Island Farmers Market is a delightful blend of local produce, crafts, and community spirit. Located at the Middleton Park Extension, this market operates every Monday from 8 am to 1 pm. Visitors can browse through a diverse array of fresh fruits, vegetables, homemade jams, baked goods, and unique crafts. It's an excellent place to connect with local farmers and artisans while enjoying live music and a warm, welcoming atmosphere. And it's a great way to support local farmers and artisans! 
Location: Middleton Park (4610 Dolphin Drive)
Admission: Free
When: Mondays, May 22 – September 2, 8 am – 1 pm
2nd Annual Dutchman Dinghy Dash
The 2nd Annual Dutchman Dinghy Dash is a must-attend event for adventurous souls. The Town of Oak Island Parks and Recreation Department hosts this quirky boat race at Dutchman Creek Park. Participants construct their dinghies using limited materials of cardboard, glue, and duct tape. The race promises laughter and fun for participants and spectators as racers must try to get their two-occupant boat to the finish line. The event showcases the spirit of camaraderie and creativity, making it a favorite among locals and visitors alike. Contestants can win awards in several divisions.
Location: Dutchman Creek Park (4750 Fish Factory Road, Southport, NC 28461)
When: Saturday, August 12, 2023, 11 am
Watch some of last year's contestants!
Oak Island Summer Concert Series
Imagine spending a pleasant summer evening on Oak Island's beach, enjoying live music under the starry sky. The Oak Island Summer Concert Series offers just that! Held on most Fridays of each month from May to September at the Middleton Park Complex, this series features talented musicians and bands performing a diverse range of music genres. Bring your beach chairs, blankets, and snacks to sit back, relax, and groove to the tunes.
Location: Middleton Park (4610 E Dolphin Drive)
When: May – September 2; 6:30 pm – 8:30 pm
Free to attend!
Southport Summer Market
While not directly on Oak Island, the Southport Summer Market is well worth the short trip. Located in downtown Southport, this vibrant market operates on Wednesdays from 8:00 am to 1:00 pm. Visitors can explore a variety of booths offering fresh produce, artisanal crafts, clothing, jewelry, and more. The market's charming coastal setting and friendly vendors create a delightful shopping experience.
Location: Franklin Square Park, Downtown Southport
When: May – August 30, 2023; 9 am – 2 pm
Sunset on Summer Music Festival
The Sunset on Summer Music Festival is the island's first music festival. Held at the Middleton Park Complex from noon to 8 pm. There will be three bands, The Band of Oz, Landslide, and 20 Ride. But there will also be a DJ, a kid's area, and more. The festival's magical ambiance is perfect for creating lasting memories with friends and family. We hope you'll come hang out and enjoy the festival with us!
Location: Middleton Park (4610 E Dolphin Drive)
When: September 9, 2023, 12 pm – 8 pm
Cost: Free
All ages event!
Oak Island is brimming with summer events and activities to suit all tastes. This charming island has everything whether you seek adventure, relaxation, or cultural experiences. So, pack your bags, plan your itinerary, and get ready to create unforgettable memories on Oak Island this summer. If you are looking for the perfect accommodations for your summer vacation, browse our available vacation rentals! We have gorgeous homes with stylish décor that are perfect for your home away from home!
Our Featured Properties
Hand-picked, just for you!
3 Full Baths
4 Bedrooms
14 Guests
9 Full Baths
12 Bedrooms
35 Guests
5 Full Baths, 1 Half Bath
7 Bedrooms
22 Guests