3 Nov 2022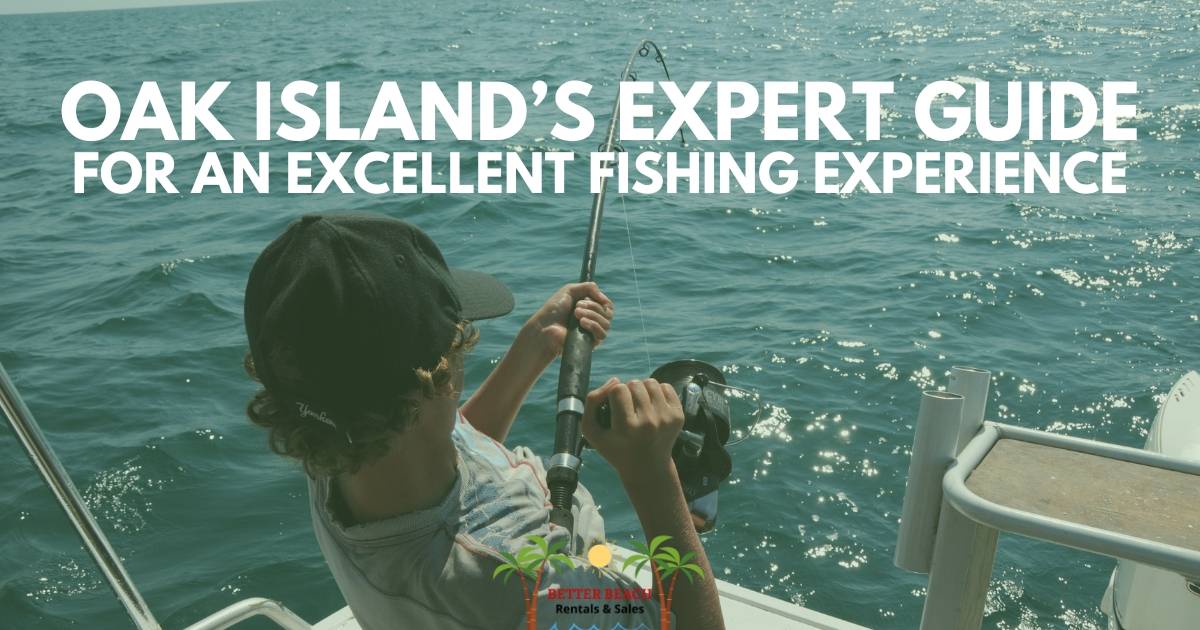 6 Tips for the Best Fishing in Oak Island
There is still time to go fall fishing on Oak Island before the end of the year. In our guide, we'll show you the best tips to have a successful trip.  And if you haven't made reservations, we have some of the best vacation rentals in Oak Island. Check them out and make a reservation today!
Fishing License and Regulations to Fish in Oak Island
Make sure you understand North Carolina's rules and regulations so you can avoid getting fined. Get a license for you and everyone in your party before you so you can have the best day without interruptions. Read the government websites for Hunting, Fishing, & Trapping Licenses, and then go to the Fishing Licenses page to get all the information and purchase your licenses online.   
If you'd like to buy a license in person, search your county on Wildlife Service Agents Search to find out the correct locations to get your license.
Best Places to Fish on Oak Island
Southport Waterfront Park
146-176 E Bay St.
Southport, NC 28461
Website 
This 9-acre waterfront park is a great place to relax, take in the views, and fish on the city pier while watching the ships come and go. The pier is handicapped accessible and bathrooms are available at the Garrison House. There is plenty of parking available and the park is always open throughout the year. It's a great place to go for a day of fishing with a gorgeous atmosphere and views.
Oak Island Pier
705 Ocean Dr
Oak Island, NC 28465
Website 
This 65-year-old pier is a favorite for visitors and locals alike. It's North Carolina's highest pier at 27 feet high and 880 feet long. It is handicap accessible in some places and hosts 30 King fishing stations. There is also the Pier House where you can visit the coffee shop, tackle and bait store, and a restaurant.
Their fall hours are 7 a.m. to 7 p.m. and it is open throughout the year. You are free to walk around on the pier, but if you want to fish you will need to purchase a pass.
Ocean Crest Fishing Pier
1409 E Beach Dr
Oak Island, NC 28465
Facebook 
This pier hosts many kinds of activities other than just fishing. You can enjoy live music, art classes, fishing festivals, and events supporting local groups like the fire department. But fishing remains a local favorite here and a great place to check out if you've never been.

Charters in Oak Island, NC
Sometimes going on a charter is the best bet. It's fun and you're surrounded by knowledgeable people who can help you improve your fishing skills. Check out this list of Oak Island Fishing Charters to see a list of 132 different companies to try. Or check out these two top recommended companies on their list.
Dockside Fishing Charters
Northeast 55th Street
Oak Island, NC 28465
Request to Book
Oak Island Sport Fishing Charters
206 West Dolphin Drive
Oak Island, NC 28465
Request to Book
Fish Finder GPS map
A great piece of gear to have in your fishing toolbox is a GPS fish finder for fishing maps so you can have hands-on information like the best places to fish for natural and artificial reefs, ledges, shipwrecks, and other best places to go fishing. You can download these fishing maps at Fishing Status and take all the guesswork out of the next best place to hit.
Oak Island Tide and Weather Reports
Fresh Oak Island Fishing Reports gives you quick-look updates for weather forecasts and what is up for prime fishing in the current month you visit the site. In the fall months, it is prime time for Red Drum fishing and the inshore fisheries have Specks, Sea Bass, and some Flounder.
Tides
Learn about NOAA tide predictions and view the Annual Prediction Tide Tables for Oak Island to give you more helpful information on best times to fish.
Weather and Wind
Weather can also play a factor in fishing so check out the wind graph to give you more details like wind statistics, alerts, and forecasts for the days you plan to fish.
Where to Get Fishing Gear on Oak Island
Having the right gear makes all the difference when fishing. If you don't have the right set up you probably won't have much luck in catching anything. Luckily, Oak Island has great places to go for fishing gear, bait, and people who can help you make the best decisions to help you be as successful as possible.
The Pier House
Bait and Tackle Shop
705 Ocean Dr
Oak Island, NC 28465
Website
Oak Island Sporting Goods
Premier Bait & Tackle Store
6324 E Oak Island Dr
Oak Island, NC 28465
Website
Book a beach vacation rental and take a fall fishing vacation on Oak Island!
Fall is a gorgeous time of year to go on a fishing vacation. The views are amazing, the fish are biting, and the summer season has calmed down to make for a relaxing time to breathe in the fresh ocean air. Check out our specials for beach vacation rentals and start planning a memorable fishing getaway today!
Our Featured Properties
Hand-picked, just for you!
3 Full Baths
5 Bedrooms
12 Guests
6 Full Baths, 1 Half Bath
7 Bedrooms
24 Guests
1 Full Baths
2 Bedrooms
6 Guests