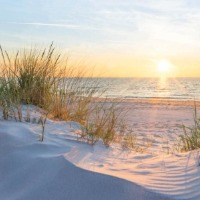 Dune Renourishment Project
The impacts of Hurricane Isaias in August 2020 left our dunes in a state of disrepair. An immediate rebuilding effort for emergency dunes, involving the pushing of sand with bulldozers, was completed in early October. While this helped provide immediate protection, there are still more long-term efforts underway. Which entails stabilizing the dune system and cutting the access points through the dunes, which is projected to be complete by the end of April 2021. It is very important for the safety of all residents and visitors to stay off the sand dunes and go to the beach at designated access points. For the latest information on the Dune Renourishment Project, please use the town of Oak Islands links below:
www.OakIslandNC.com/SAND - Lists all of the Beach Renourishment projects which are currently active - complete with project dates, agencies involved, and interactive maps that show work areas.
www.OakIslandNC.com/ACCESS - List (with interactive map) of all public beach access locations, color-coded by amenities offered (parking, restrooms, rinse stations, etc.)