---
How to Build the Ultimate Beach Themed Scrapbook
Posted On Monday, November 25, 2019
---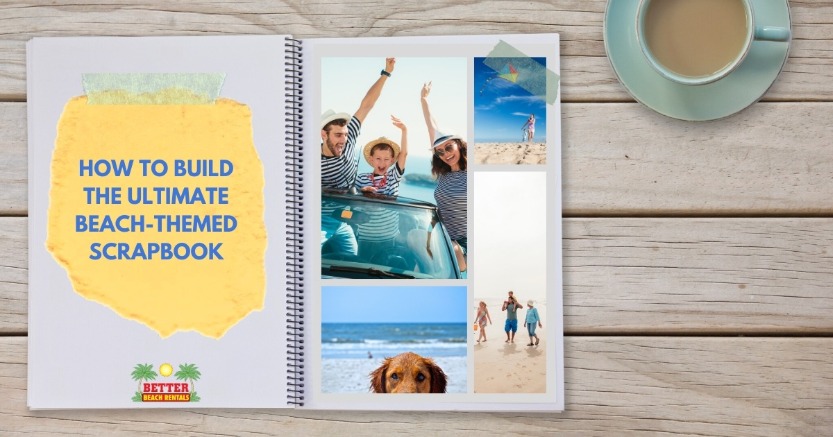 Are you having a case of the winter blues? Have you already been day dreaming about your 2020 Oak Island summer beach vacation? If you are, now is the perfect time to start planning your vacation. One way to beat the winter blues is to take a look back at your last beach vacation. You guessed it, its time to scrapbook. Now is a great time to gather the kids and family around the table, make some cookies, grab a cup of hot chocolate, and enjoy creating a beach themed scrapbook. Let's get started building not just the ultimate beach themed scrapbook, but your ultimate beach vacation.

Gather Your Tools and Materials
Of course, the first step is to gather all the materials and tools that you'll need. Nothing is worse than starting your project and realizing you have to run to the store for something. Make a list of items you'll need. Need help? Here are few items you should consider purchasing: patterned paper, embellishments, 3D stickers, glitter, letter and number stickers, watercolor pencils, ink pens, wooden stamps, stencils, scissors, and glue or photo safe sticky dots or squares.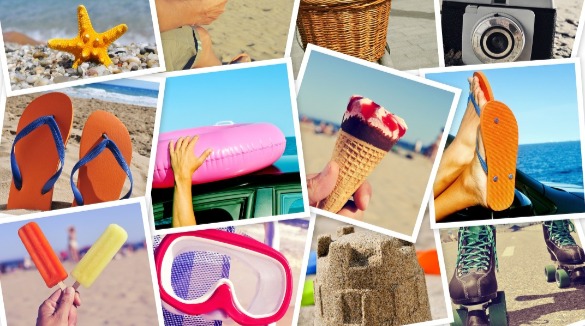 Choose Your Pictures
Let's face it, we all have way too many pictures. The question is how do we narrow down that pile of pictures. If you choose carefully, you can create breathtaking scrapbooking beach layouts. The first step is to create piles of pictures. Try putting together 20 to 30 photos that you are absolutely in love with. However, you want to limit duplicates. For example, you may have ten sunset photos but you only need one or two. The same applies to all those pictures of the kids making sandcastles.

Tip: Try making a grid of your unique photos that share the same theme such as various seashells, fish, or waves. Crop twelve photos to a 3×3 size and create a grid collage out of the photos. You can do this by using a pre-printed grid or drawing one out with a ruler

Create Themes
Don't forget to create different themes. This can be things like grouping photos of your kids or family adventures. Maybe you want to have a theme about a day on the water or a day in Southport. Get creative! Scrapbooking is fun, so let your creative juices flow.

Create Your Layouts
Creating layouts is fun and easy to do. First, you will want to choose your background. Most craft supply stores will have several beach themed backgrounds to choose from. Keeping your photos and sub-themes in mind, have fun selecting background paper that will support each sub-theme. For example, you can find paper that looks like sand. Some paper will have waves or seashells on them. With a little hunting, there is almost no limit to the backgrounds you can find!

Don't Forget to Add Notes and Comments
One of the best things about scrapbooks is the ability it has to bring folks together. Think of all those fond memories you have with your family looking at old pictures. There's just something timeless about it. When creating your scrapbook, don't forget to write comments and to journal about the photos so you can share your Oak Island beach vacation with generations to come.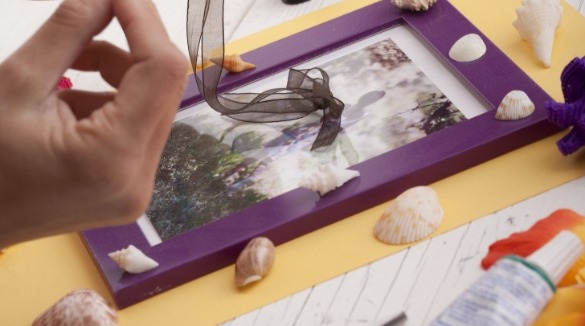 Get Creative
There are several things you can to do really make your scrapbook pop. Try adding some embellishments. For example, you can incorporate things like sand or seashells. Another thing you can do is include tokens and mementos from your trip. Think about ticket stubs, postcards, or brochures from places you visited. We saw one clever scrapbook that had unique cocktail napkins from their favorite restaurants. Almost anything is fair game!

As we mentioned above, now is the perfect time to start planning your 2020 beach vacation! With our safe, secure, and easy to navigate website, booking the perfect beach vacation for your family has never been easier! Just click the button below to get started. Of course, you can always call us at 910-278-1147 to speak with one of our friendly reservationists. See you soon!

Comment on this post!