---
Discover the Exciting Sport of Stand Up Paddle Boarding
Posted On Monday, September 9, 2019
---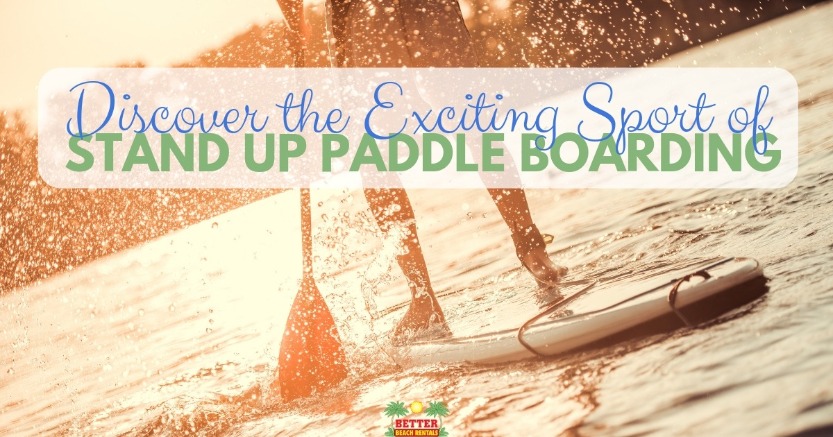 Fall is going to be here soon. Temperatures are slowly falling into that perfect zone of comfort. Warm days, cool nights, and warm water temperatures are the norm on Oak Island. This week we have one of the best fall activities you can enjoy on Oak Island. Stand up paddle boarding is one of the best ways to explore the local waterways and a great work out. With so many board designs and styles to choose from, SUP as it is known has become an easy and accessible sport for men and women of all ages. Here's everything you need to know to get started in this exciting sport.
Take A Lesson
It goes without saying that taking a lesson from a professional is a great idea especially if it is your first time attempting to learn to stand up paddle board. A good instructor can help you learn the proper technique and help you quickly gain your confidence on the water. Lucky for you Oak Island is a great place to take a lesson and we have some great instructors in the local area to make your SUP dreams come true.
Mr. Beach Rentals
Lighthouse Watersports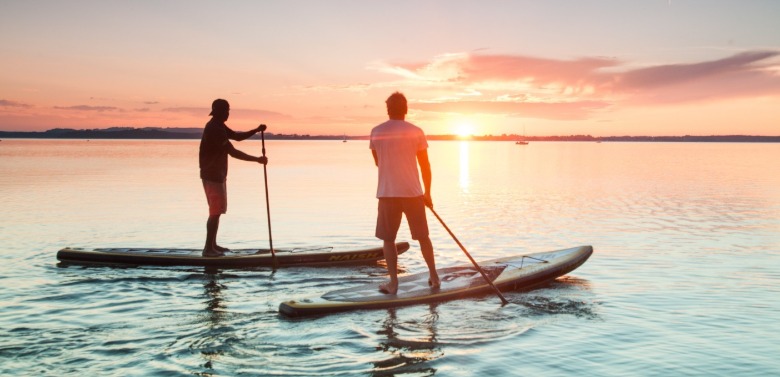 Things to Consider When Buying or Renting a SUP
Stand up paddle boarding offers something for everyone. You can head out for a relaxing paddle on the calm waters of the ICW, glide along salt marshes, explore rivers, or even catch waves in the ocean. Whatever your passion is, having the right board is key to your enjoyment. Of course, you don't have to but a SUP. There are loads of great places to rent SUPs here on Oak Island. If you are looking to but a SUP here are a few things to when purchasing a SUP to consider:
Hull type- Your two main choices are a planing hull and a displacement hull; the type you choose will be based on the type of paddling you plan to do.
Solid or inflatable- Do you want a solid board or an inflatable one? Your answer will be based on things like board performance, portability and your storage options.
Volume and weight capacity- You want to pick a board with the volume and weight capacity that's right for your height and weight to ensure good stability and paddling performance.
Length, width, and thickness- The dimensions of a SUP play a big role in determining how it handles on the water. From there, you'll consider a board's fins and any extras or accessories that work for you.
Ok, so you've either purchased or rented your standup paddle board and had a lesson or two. Now it is time to get out on the waters around Oak Island and explore our beautiful water ways. We are sure you'll fall in love with our beautiful island but, before you hit the water make sure to check out these ten tips for a safe day on the water.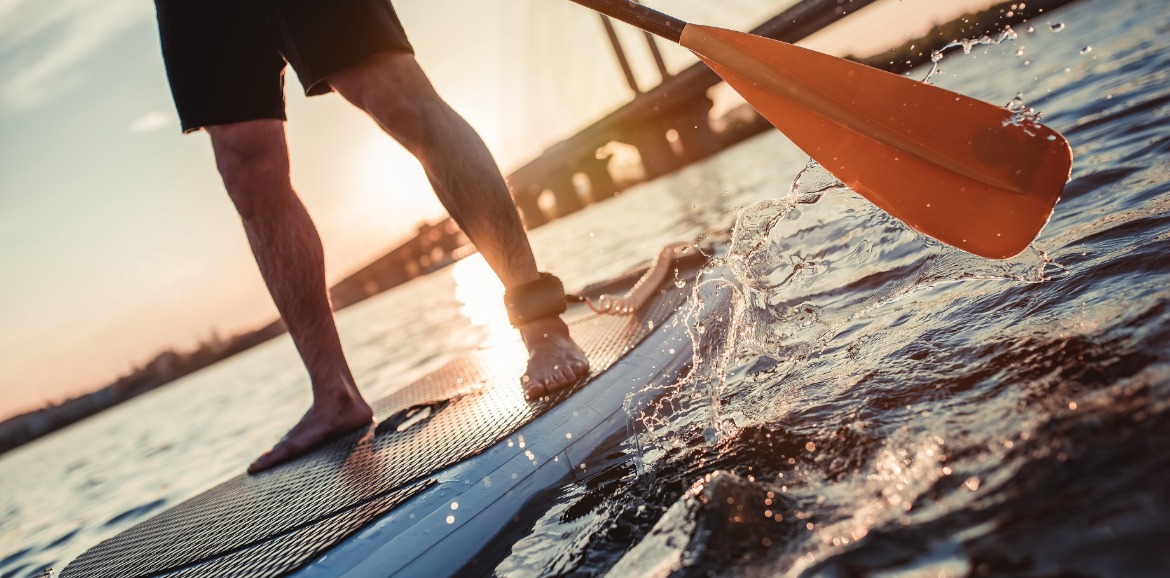 Ten Tips For A Great Day On The Water
Use A Leash- This actually goes for all stand up paddle boarders but the sooner you're aware of how vital a leash regardless of the water conditions the safer you and everyone else will be when you are paddling. Be safe wear a leash.
Make Sure You're Using the Paddle The Right Way- We've all done it because it seems right at the time. You want the paddle to scoop the water as you try to balance and paddle without falling in. However, as we all eventually find out, the paddle goes the other way as it works more effectively when in the standing position and also results in a smoother paddle stroke and less stress on your shoulders and elbows. Keep the blade in a vertical position which provides the best angle of attack for the paddle.
Face The Right Way-To non-surfers or regular water-goers, it's not immediately obvious which end of the SUP is the front/nose or the back of the board. Many beginner boards have a large round nose and tail. These boards have excellent stability but can be confusing to beginners. So before you jump on the board, check where the fins are and make sure they are in the back when you paddle!
Paddle With Your Core- Don't use your arms. This may sound a little weird at first but paddling is best done by your core. These are the strongest muscles of your body and provide the most effective power for your paddle stroke.
Look At The Horizon- When you first start paddling the natural temptation is to look down at the board. You'll enjoy watching the water lapping at the sides and to hope you don't fall in! However, for the best stability, you want to keep your head up, back straight, and your body weight evenly distributed over your toes. It sounds silly, but with your head down watching your toes, you are likely to rock back on your heals and then hello water!
Stay Out Of The Way- Stand up paddle boards are big and they can hurt when they hit you. Be mindful of other water users and when you're learning the art of SUP. Make sure you have plenty of room to practice standing, falling and paddling.
Fall Off The Right Way- Just like you can practice tricks and wave riding, practicing falls or at least being aware of how to fall and fall safely can ensure your session is not cut short by injury. Stand up paddle boards are big and can hurt if it hits you when you fall, you want to fall away from your board.
Only Ride Waves You Can Handle- Mother Nature is a powerful being and you need to respect that and know your limits. Be smart, and ride waves only appropriate for your skill level.
Watch the Wind- It's important to know the conditions when you head out on the water for the day. Take a look at the forecast so you're aware of any possible changes coming. Remember when you're standing on your SUP, you're like a sail in the wind. If you're ever caught in strong winds, lay down with your paddle tucked under you and paddle the board like a regular surfboard.
Look After Your Paddle And Board-Look after your board and paddle, they are fragile when thrown around on land and can be easily damaged. Your board will thank you

Now all you need to do is to book the perfect Oak Island beach vacation. The easiest way to do this is by giving one of our reservationists a call today at 910-278-1147. Of course, you can always check out all of our amazing vacation homes with just a few clicks of the keys. Click the button below to see our current inventory. See you out on the water!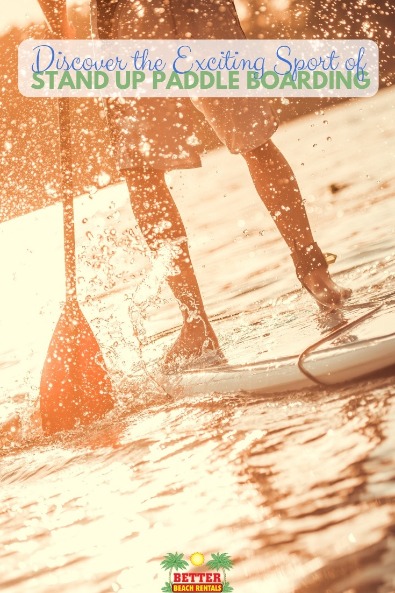 Book your Oak island vacation today.
Like and follow us on your favorite social media.
Comment on this post!